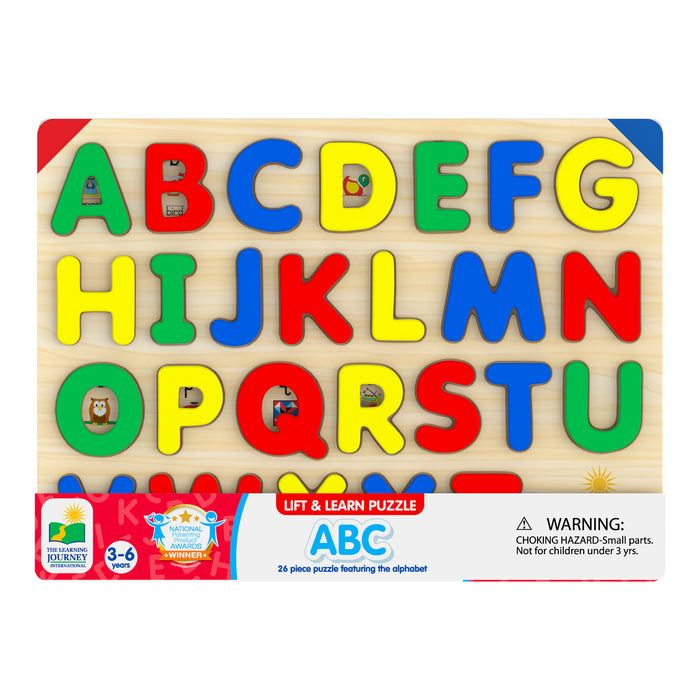 Lift & Learn ABC Puzzle
Save

Liquid error (snippets/product-badge line 32): Computation results in '-Infinity'

%
26-piece puzzle wooden letters
Letters A to Z that fit into the wooden base
Colours in yellow, red, green, and blue
The base has a picture that starts with the coordinating puzzle piece
Develop problem solving and hand-eye coordination
Pieces are raised for easy lifting
Bright, colorful illustrations
Pictures under pieces
Handwriting lined text under pieces
Wood-like grain finish
Dimensions: 15 inches length x 11.5 inches width x 0.5 inches height
Weight: 1.11 pounds
SKU: SKU# 657092285138
Category: PUZZLES
Brand: The Learning Journey
AGES (3-6) Preschool years
 The Lift & Learn ABC Puzzle is a fun and colorful tray puzzle that helps children develop skills such as hand-eye coordination and problem solving. The puzzle features the alphabet, and pictures are printed under the pieces to guide younger children. The puzzle also teaches children about letter recognition and word formation, boosts their confidence, helps them build concentration and focus, and develops problem-solving skills and hand-eye coordination.
 Highlights
Learn About Letter Recognition & Word Formation – The Lift & Learn ABC Puzzle teaches children how to recognize different letter shapes as well as how they are used in some simple words. Underneath each of the puzzle pieces are words and illustrations to show the letter being used, helping children understand word formation and spelling.
Boost Confidence – Shaped puzzle pieces help children to become familiar with the letter shapes more quickly, boosting confidence and encouraging them to move on to more difficult tasks.
Build Concentration & Focus – Completing the puzzle requires focus, but the easy lift and place style of the puzzle means that children can build their focus up in a gradual way and feel rewarded so that they are motivated to continue.
Develop Problem-Solving Skills – Whether the child is placing the correct puzzle pieces in the correct spaces or exploring the learning opportunities of the puzzle, they are developing valuable problem-solving skills that will help them in other areas of their learning journey.
Develop Hand-Eye Coordination – Developing hand-eye coordination becomes easier with practice – as your child becomes familiar with the puzzle and completes it more quickly they will be developing important motor skills and hand-eye coordination.