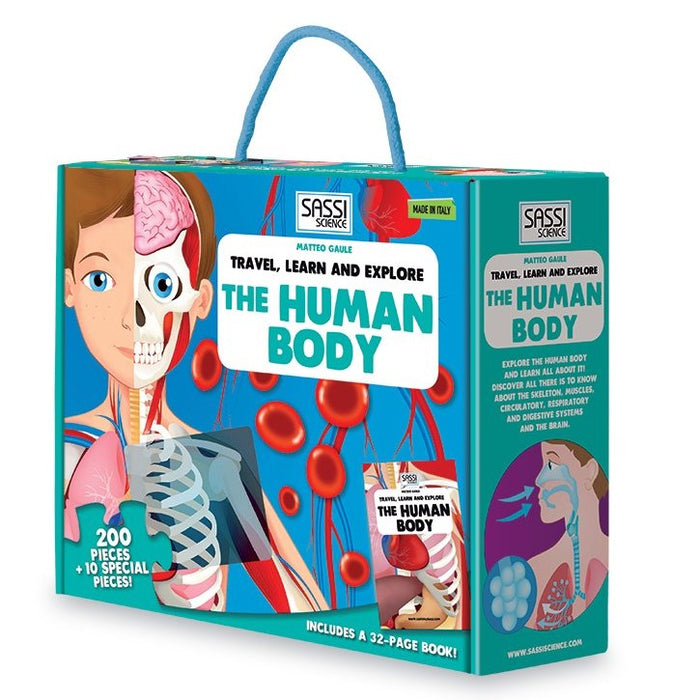 The Human Body - 200 Piece Floor Puzzle
Learning anatomy made fun with a 3 feet tall, 200 piece floor puzzle and 32-page book!
Put together the detailed puzzle and read the book to learn all about the cycle of life and the human body!
Take a fascinating tour of the human body! How does your respiratory system work? What kind of bones make up a skeleton? How does food get digested? How many cells does one body contain? 
Human shaped Puzzle - 200 pieces

Includes a 32 pages book

An easy-to-carry box for storing the puzzle and book--and starting the fun all over again!

Puzzle: 3 Feet Tall 
Ideal for ages 6 and up
Sassi Junior
Sassi is an Italian publishing house, founded in 2006 specialising in book toys with worldwide distribution and headquarters in Italy.
Cutting-edge design, premium quality materials with strict safety standards, and high value in contents are the guidelines for the development of each Sassi product.
Each item in the Sassi Junior range is either made from recycled papers and or FSC Certified, uses very little plastic, and aims to use almost exclusively eco-sustainable materials by 2022.
The inks used are also environmentally friendly.
200 Piece Giant Floor Puzzle Human Body Unique Shape 3 Feet Tall, Educational, for Kids Age 6 & Up Boys Girls