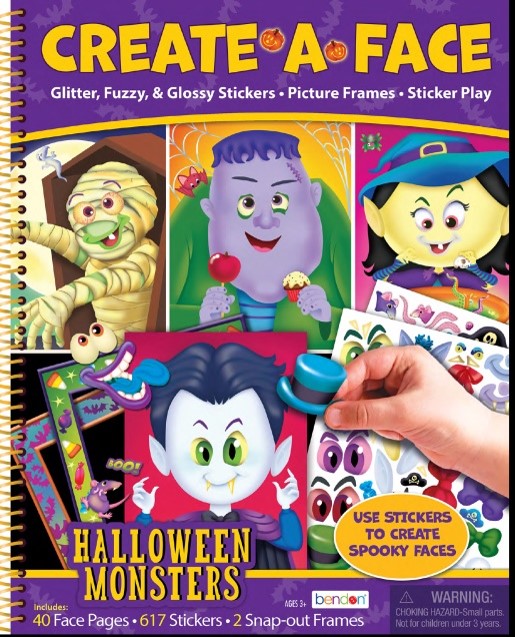 Create-A-Face - Halloween Monsters
Bendon Halloween Make a Face Sticker Books for Kids --Giant Halloween Sticker Book with 32 Spooky Faces and 440 Stickers (Halloween Sticker Face Activity Set).
This Halloween Create a Face sticker book features 32 faces and hundreds of repositional stickers.
This Halloween activity book will provide hours of fun.
This Halloween make a face sticker pad will inspire lots of giggles as kids complete the pictures of monsters, mummies, witches, jack-o-lanterns and other favorite Halloween characters. When the stickers of eyes, ears, and noses are placed correctly on the pages, the spooky characters come to life. Boosts problem-solving skills, fine motor skills, and visual perception.
Officially licensed Halloween make a face sticker book pads. Perfect as Halloween party supplies and party activities.
Ideal for ages 3 and up
Bendon Publishing

Every child has a favorite character-or a hundred!
Since 2001, as one of the country's leading producer of coloring and activity books, we've been bringing the characters kids love to life with creative, hands-on products that encourage imagination and fun. Bendon is committed to growing right alongside your child, delivering activities for the evolving line-up of characters they love into the future. We're dedicated to providing creative play solutions for kids and their favorite characters.
Spark creativity in the hearts and minds of all with children's products from Bendon. We partner with retailers around the world to deliver high-quality coloring and activity products at an affordable cost to delight children everywhere.