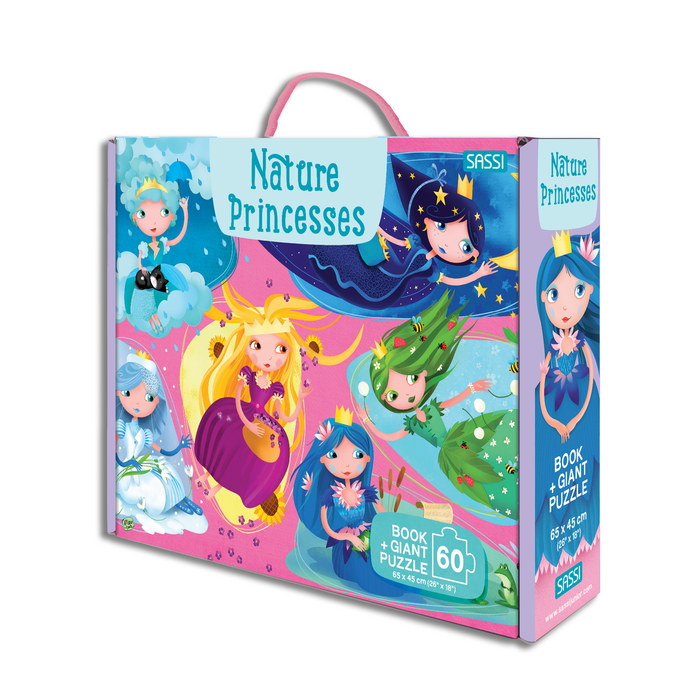 Nature Princesses - 60 Piece Giant Floor Puzzle and Book
A box embellished with glitter containing a 60-piece floor puzzle and a 10-page board book to discover the wonders of nature and its beautiful and mysterious princesses.
In the garden, among a thousand colourful flowers, live the princesses of nature. Build the giant floor puzzle and watch carefully: everything in nature has its princess!
Jigsaw puzzles help children develop finger strength, perseverance, and hand-eye coordination.
Jigsaw puzzles develop memory skills, as well as an ability to plan, and solve problems. While completing a puzzle, children need to remember shapes, colours, positions, and strategies to complete them.
The experience of completing a puzzle can also help your child to learn to accept challenges, overcome problems and deal with frustrations.
Ideal for ages 5 and up
Sassi Junior
Sassi is an Italian publishing house, founded in 2006 specialising in book toys with worldwide distribution and headquarters in Italy.
Cutting-edge design, premium quality materials with strict safety standards, and high value in contents are the guidelines for the development of each Sassi product.
Each item in the Sassi Junior range is either made from recycled papers and or FSC Certified, uses very little plastic, and aims to use almost exclusively eco-sustainable materials by 2022.
The inks used are also environmentally friendly.
65 x 45 cm (26" x 18")